VET Trainers set to be in-demand as recent industry report predicts employment boom
15 Jun 2018
The National Industry Insights Report released earlier this year suggests employment opportunities in the Vocational Education and Training (VET) sector are expected to grow substantially into 2022.
Training and Assessment expert, Maggie Hall, says this is promising news for those looking to become VET teachers/trainers or practitioners.
"With the expectation of plenty of jobs available, now is the best time to gain or upgrade your Training and Assessment qualification."
According to the Report, VET training as an industry and occupation has had a changeable past. Employment opportunities have fluctuated since 2000; but in light of the Report's positive prediction, Ms Hall is looking forward to a thriving future.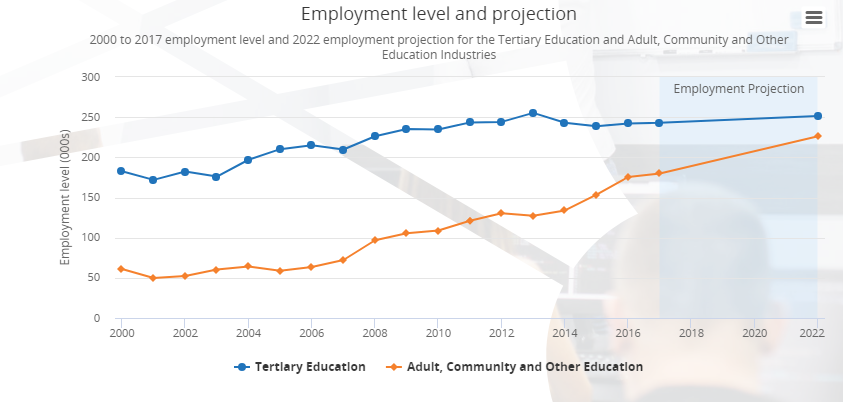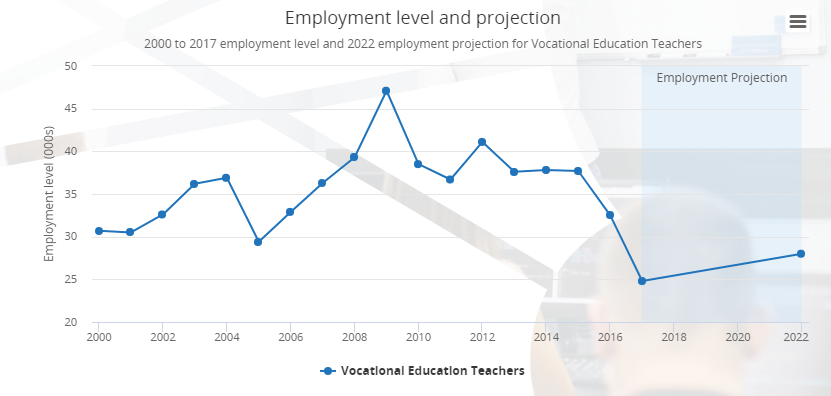 "VET training as a profession has struggled at times to attract interest, as many people typically think of teachers as either K-12 school teachers or academic lecturers at university. But training in the VET sector is just as rewarding. You get to make a real difference to people, developing their practical workplace skills and enhancing their employment opportunities."
The Report was developed by the National Centre for Vocational Education Research for the Australian Industry & Skills Committee (AISC) and combines broader labour market and training data with industry intelligence from AISC's network of 64 Industry Reference Committees (IRC) (which includes employers, employees and industry peaks).
The Report has been designed to support IRCs to ensure the design and development of VET training packages (qualifications) are evidence-based and meet the needs of the industry.
The Report offers high-level insights as well as industry and national scale economic and employment trends, skills forecasts and the factors that affect the demand for skills.
Over the last decade, interest in VET teaching/ training as an occupation has declined and this can be attributed to a number of factors, including:
Ongoing reform in the sector which leads to constant regulatory change and perpetuating a degree of uncertainty and instability; and
Technological development that's impacting how vocational education content and material is delivered, taught and consumed.
The Report highlights that industry and occupation-related skills will be the top priority for future training package development with teaching skills for VET teachers/trainers amongst the most important skills to nurture.
With the Report predicting an employment rise in VET teaching/training, there is an even stronger focus on developing VET teacher/trainers and enhancing their teaching skills.
The Reports states the following skills will be in-focus and in-demand for VET teacher/trainers:
Ability to adapt. The skills required to adapt to changes in the sector and industry, and include the ability to understand and implement changes, and the skills to deliver professional development materials to ensure that qualified VET teachers/ trainers and practitioners knowledge stays relevant following regulatory change.
Competent digital literacy. Digital literacy will be important for all qualified VET teachers/ trainers and practitioners, especially as teaching continues to move to the delivery of more online and flexible learning.
Teaching skills. These include the ability to deliver content, assess the competency of learners and provide feedback, as well as engage with and manage learners and diverse cohorts
Workforce and professional development. This will be critical to maintaining quality of teaching and assessment in the VET sector. Maintaining current industry knowledge through practical experience and applied research, supporting VET teachers/ trainers and practitioners to shape a career pathway in VET, as well as supporting innovation in teaching.
E-Learning. Delivery through e-learning will continue to be central to the teaching of VET, and the demand will increase due to emerging technologies. Competencies needed to deliver e-learning include being familiar and comfortable with the internet and technology (including management of online content) and promotion of an online learning community.
Regulatory compliance. The rapid pace of regulatory change in the VET sector has required RTOs to direct resources towards understanding regulatory change or risk non-compliance. VET professionals must have a strong understanding of regulations and how to ensure their RTO remains compliant.
Resilience. VET teachers/ trainers and practitioners will need the skills of adaptability and resilience to continue to embrace change if they are to successfully navigate the current regulatory, technological and economic environment.
Ms Hall says it's incredibly important to have a flexible and skilled VET training workforce that is both future-focused and prepared for an ever-changing workforce.
"A workforce that is adaptable, digitally literate and compliant is essential for a strong and resilient Australian VET industry."
"As an RTO, CIT Solutions is committed to the learners of tomorrow who can be assured they are learning from industry experts and practitioners who care about their future."
With the sector being in focus with the current government and employment on the rise, VET teaching/training is one to keep an eye on in the future.
VET teachers/trainers require a TAE40116 Certificate IV in Training and Assessment to teach and assess vocational qualifications. For more information about nationally accredited qualifications, visit CIT Solutions website.
Maggie Hall
Maggie brings extensive experience in Vocational Education and Training as a Senior Advisor of Vocational Education and Training Practice. She is a core team member of the National Training Portfolio at CIT Solutions, and is a highly skilled instructional designer, holding a strong reputation nationally and internationally as an expert facilitator and assessor.