Our top pick for wedding flowers
06 Jan 2017
Your list of 'to dos' can seem endless and to make it just a bit more stressful, trying to do it all on a budget. The fact that you're reading this blog means you're looking for ways to keep your costs down, which is great. You've come to the right place.
Firstly, don't panic. This is your time to shine, so enjoy it and really make the most of it.
Now let's talk flowers. Are you thinking about doing your own arrangements? DIY bouquets have the obvious benefits of lowering costs and you get exactly what you want but there are hidden benefits too like learning about flower care and alleviating stress. These things can help you decide if doing your own flowers is for you.
Know nothing about flowers? A good place to start is a beginner class in floristry. Short Courses by CIT Solutions offers a terrific introductory workshop that will cover the basics in preparing and presenting flowers.
Already got the basics? Are you ready to pick out your centrepiece flowers?
If you're after a flower that's the most colourful or rarest, fragrant or unscented, emotive or mood changing we've put together a list of tried and true wedding flower beauties that won't let your bouquet or budget down.
Rose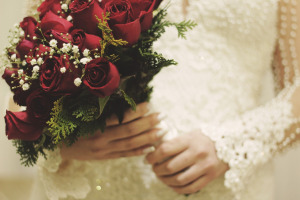 Long considered a symbol of beauty, romance and love this flower is a top contender in the wedding game. Striking and seductive this bloom is bold and far from boring. The flower comes in various colours and petal arrangements and is often available all year round. The rose is surprisingly affordable and comes in luxurious scents although not every rose has a fragrance.
Calla Lily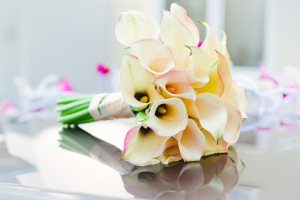 Also referred to as the arum lily, this flower originated in Africa and symbolises "magnificent beauty" in the language of flowers. It's gracefully long stem and elegant petals make this flower a stand out in a bouquet. These flowers are scent free so they won't get on the nose of your guests. The bloom is relatively affordable and flowers in summer. There is only one complication to this beauty; they can be difficult to arrange with other flowers.
Lily of the Valley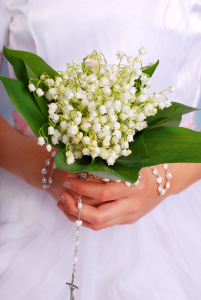 One of the most beloved wedding flowers by brides is the lily of the valley. This classic and traditional bloom is delicate and feminine; it boasts a heavenly scent and stands out best in a flower arrangement of its own. In the language of flowers this bell-shaped pretty symbolises the return to happiness. Although an all-time favourite, this little treat can wilt quickly, be pricey and is highly toxic if consumed.
Hydrangea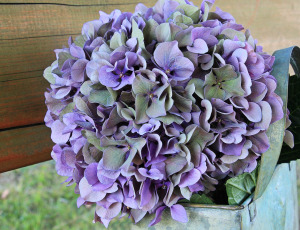 The hydrangea is perfectly versatile for your wedding flower arrangements as this flower simply goes with the flow. With an extra-large bloom of petals and plenty of colours to choose from this flower is easy to work with and sure to complement its settings. They have a beautiful floral scent that's not overpowering but heed caution as these flowers can wilt unexpectedly so make sure you take the time to prepare them properly for your big day. The hydrangea flowers in summer and autumn and is very affordable.
Sweet Pea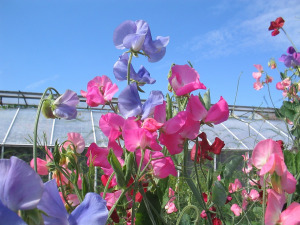 The sweet pea flower is a fragile little thing but don't be fooled as their fragrance can be quite seductive, however, some varieties are non-fragrant. This feminine flower has a vintage appeal and comes in a variety of colours which boasts its bouquet versatility. As beautiful as they are this delicate little number doesn't like the heat so keeping them cool is highly recommended. The sweet pea flowers from May to September.
Gardenia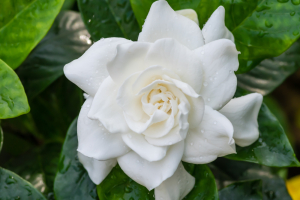 This gorgeous white bloom has an intoxicating scent that's truly delightful however they are rather delicate and can brown easily. Elegant and classic this flower will compliment any flower arrangement. These flowers bloom from January to February and are moderately pricey.
Ranunculus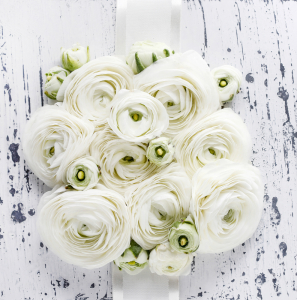 A one of a kind and often not the first flower a bride thinks about for her bouquet, the ranunculus bloom is charming and vibrant. This large flower has a high petal count and can either be a bouquet filler or centrepiece. It's sturdy and comes in an array of warm colours, this flower is a compliment to any season wedding.
Whatever flower, colour or arrangement you choose, your wedding day will be a moment to remember. Enjoy it.
Interested in learning how to make your own bouquet? The introductory floristry course offered by Short Courses by CIT Solutions books out fast so get in quick