Celebrating Emma Brown, Student of the Year finalist, ACT Aboriginal and Torres Strait Islander VET
06 Oct 2023
Celebrating Emma Brown, Student of the Year finalist, ACT Aboriginal and Torres Strait Islander VET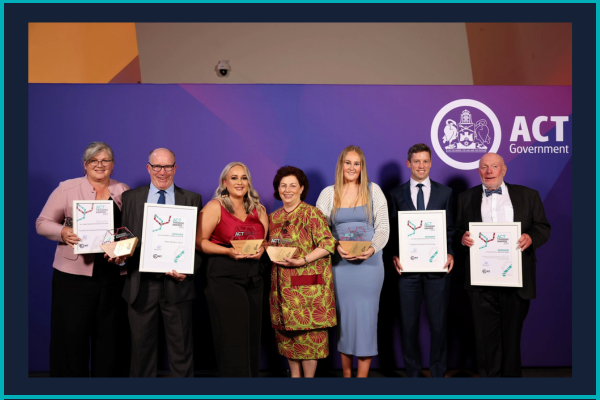 Emma brown shines brightly in the heart of the Australian Public Service and the indigenous community of the ACT and has left an indelible mark through her unwavering dedication and generosity. As part of the 12-month Indigenous Apprenticeship Program (IAP), a partnership between CIT Solutions and Services Australia, Emma recently completed a Diploma of Government with CIT Solutions . The IAP is a transformative initiative to prepare First Nations learners for successful careers in the Australian Public Service, supporting the important whole-of-government priority of 'closing the gap'.
"I was Emma's mentor and program coordinator throughout Emma's time on the Indigenous Apprenticeship Program (IAP). Emma's dedication to her studies and work was admirable. Her positive attitude and willingness to succeed while faced with adversity throughout the year was inspiring. This award is well deserved, and I am extremely proud of her efforts."
-Anthony Warrell, Recruitment and Entry Programs Coordinator, Civil Aviation Safety Authority
Throughout her journey in the Indigenous Apprenticeship Program, Emma displayed remarkable qualities that set her apart. Her passion for her work and commitment to providing exceptional service to clients and colleagues was nothing short of exemplary. Emma's uplifting spirit and positive feedback were a constant source of encouragement and enthusiasm for her colleagues, peers and all others working in the Australian Public Service. More so, Emma's impact goes beyond her workplace. She is well-known for her tireless support and contributions to the Aboriginal and Torres Strait Islander community of the ACT and the wider Canberra region. What truly distinguishes her is her unwavering professionalism, compassion, and respect in every interaction and communication. She embodies the essence of a dedicated Australian public servant who is dependable and is consistently making a difference in the lives of others.
Emma's focus and consideration and collectiveness is a testament to her character. She not only achieves her own goals but also ensures that those around her have the opportunity to win and succeed. Her commitment is a source of inspiration and motivation for all who have the privilege of working alongside her. "I wanted to have a stable income, expand my skillset and be able to network with a range of people, and to prove to myself that I am able to accomplish anything I put my mind to, even with a learning disability," Emma says.
As we celebrate Emma Brown, we recognise her as a true embodiment of service, nobility, and professionalism. She is the epitome of how one person can make a huge positive impact on the community and in their workplace.