At CIT Solutions, Indigenous learning matters
01 Oct 2019
CIT Solutions' Indigenous apprentice, Taylor Williams, was recognised as the "ACT Aboriginal and Torres Strait Islander Student of the Year" at the 2019 ACT Training Awards ceremony on 12 September.
Robin Watson, Learner Support Facilitator for the Indigenous Apprenticeships Program (IAP) works closely with all our Indigenous apprentices and accompanied Taylor to the awards ceremony.
"Taylor always strives for excellence. She has found her voice and speaks up beautifully", says Robin. "I was privileged to be at the ceremony when she received her award. Her speech was the most moving and authentic of the night".
Taylor completed her Diploma of Government under the Indigenous Apprenticeships Program with CIT Solutions in 2018.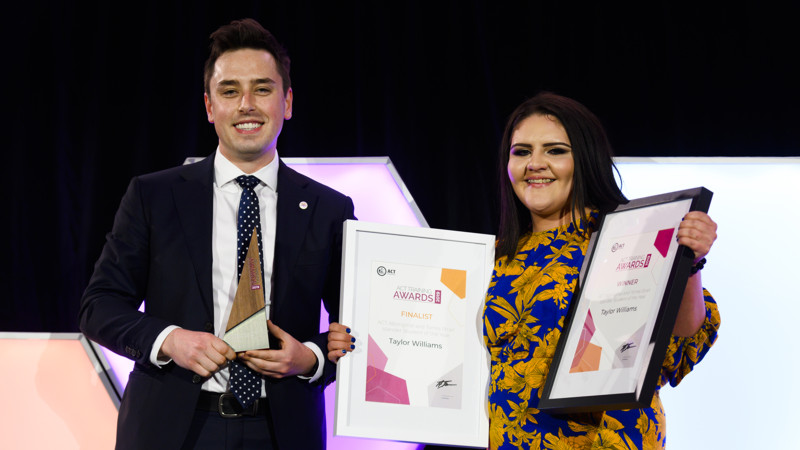 Michael Pettersson (MLA, ACT Legislative Assembly) and Taylor Williams (our Indigenous apprentice) at the 2019 ACT Training Awards ceremony. Photo Credit: Skills Canberra.
She calls it a life changing experience and says, "CIT is family to me. They have a great understanding of Aboriginal and Torres Strait Islander culture. They understand how this (learning) impacts our identity, culture and family".
IAP is one of the most successful Indigenous programs run by CIT Solutions with over 200 students located in 80 plus locations across Australia.
Deanne Ranyard, Head of National Training Portfolio at CIT Solutions, says "We are very passionate about ensuring that Indigenous people have access to the skills and knowledge that they need to progress in their careers."
Account Manager for IAP at CIT Solutions, Lisa Reading says this nationally recognised program is hosted by the Department of Human Services and partner agencies.
It offers a Certificate IV in Government and a Diploma of Government, and includes on-the-job tasks, masterclasses, face-to-face learning, workplace visits, online learning, virtual/phone support and additional coaching.
"We have staff from Indigenous and non-Indigenous backgrounds with multiple years of experience in design, development and delivery in these spaces. We also have a fantastic facility and a really caring cohort of offsite contract facilitators", says Lisa.
CIT Solutions is also working with the Department of Human Services on a career advancement program for Indigenous learners. "It is very important that Indigenous people are represented in the Australian Public Service and we are excited to do our best to ensure that it continues", says Deanne.
Side Photo Caption: Taylor Williams with CIT Solutions' Indigenous Apprenticeships Program team - Lisa Reading and Robin Watson.